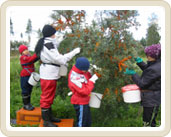 Sea-buckthorn is produced mainly in our own plantation. First bushes were planted already in 1985. Sea-buckthorn is picked by hands when it's ripe enough. Closest shrubs stands about 50 metres away from production plant.
Juice's production process happens in stages (dairy), which ensures the aseptic and hygienic quality of the products.
The solar panels, which are set in the roof of production plant and air source heat pumps gives the necessary energy during the whole year almost 100% certainty.